In the midst of the depression and hopelessness that engulf millions of us in America today, I feel compelled to write about something that inspires hope – a program at Walter Reed Army Medical Center called MusiCorps. But allow me a couple of paragraphs to get there.
Today the unthinkable has happened and Americans have given the Presidency to a man who has shown disdain for women, minorities, refugees, soldiers, the disabled, the most vulnerable in our society, and even our constitution. Today in America, we awoke to a vastly diminished country in every possible way. We are diminished in any kind of moral standing we may have had in the world, in our collective sense of decency, in our willingness to think rationally and to believe in facts rather than in distortions and outright lies. And as the days and weeks go by, we may also find that we are diminished economically, as the Brits have found following the Brexit vote. Some parts of the world may be laughing at us, but I suspect more are sharing the horror and disbelief felt by millions of Americans.*  But in the words of my friend Ed Kuhn, at least we still have music. And I am not saying that lightly or in any way ironically.
Ed (piano faculty at Seton Hill University) and I are both on the board of the Pennsylvania Music Teachers Association, and we had a board meeting this past Saturday.   After the meeting, Ed and I spoke about the ugliness of the election, and he commented "Well, at least we still have music." I haven't been able to get his comment out of my mind.
I thought about that comment all during my 3-hr. drive home through gorgeous fall colors of rusts, yellows, bronzes (today, in contrast, has seemed remarkably gray). And it struck me that music is so powerful because it is so positive. Words can be demeaning. They can reflect the worst of human nature – as I heard every time I turned on the car radio during my drive and heard vitriol from one of the campaigns  – before I switched back to my Gershwin CD. Words can wound, they can hurt, they can lie and deceive.
But music does not wound, it does not hurt, it does not lie, and it does not deceive. Music is never negative!! We may like or dislike a particular piece or style of music, but there is nothing inherently negative in the music itself. This is not to say that it isn't sometimes used as a background for hateful or negative ideas. And it certainly is used to elicit a variety of emotions in everything from movie soundtracks to campaign appearances because music can be sad, melancholy, upbeat, soothing, cheerful.
The lyrics added to music can be hurtful, but music itself cannot. Music doesn't make any class of people feel "lesser," doesn't diminish anyone, doesn't insult anyone. It has the power to make people feel better – which is why so many people spend so many hours every day listening to music.
And yes, in the aftermath of this vicious campaign and the devastating result, we really can say at least we still have music – and mean it, in the most positive sense. For many of us, listening to or making music will provide needed calm, reflection, and renewal in the coming weeks and months.
But for one group of people, wounded veterans, music can be an exponentially greater lifeline – a means of rebuilding hope, and a return from a shattered life. Our despair about this election pales in comparison with the agony and hopelessness faced by thousands of veterans who have been catastrophically wounded, mentally or physically, on the battlefield.
Veterans have returned from Iraq and Afghanistan who would never have made it home in previous wars because of so many advances today in the quality of battle armor and battlefield medicine. These vets may be alive, but their horrific injuries have made life, in many cases, unbearable. Some are missing multiple limbs, some suffer from PTSD (Post Traumatic Stress Disorder) or TBI (Traumatic Brain Injury). Many of these severely wounded veterans spend 2 or 3 years or longer at Walter Reed Army Medical Center.
So what's the connection with music, and what is MusiCorps?
In 2007, pianist/composer Arthur Bloom was asked by someone at Walter Reed if he had anyideas for helping a severely wounded soldier, a drummer who had lost a leg in Iraq and was no longer able to play his drum kit. Bloom, who has a degree in literature from Yale and music degrees from Juilliard and the Yale School of Music, is the founder of RIME (Renovation in Music Education), a nonprofit that works with arts organizations and communities in setting up innovative arts partnership programs.
So Bloom met the drummer, and he did indeed have an idea for how to help him. He rigged up a drum kit for a drummer with one leg, and then found himself going back again and again to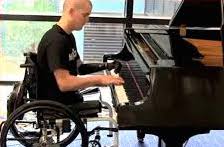 work, not only with the drummer, but with other musician veterans. He eventually founded a program called MusiCorps, which operates under the auspices of RIME.  Bloom was named a CNN Top Hero of 2014.  (This, and all links below, are video clips of or about MusiCorps.)
MusiCorps is not a music therapy program. Bloom calls it a "conservatory-level music rehabilitation program that helps wounded warriors play music and recover their lives." Bloom and his staff of professional musicians teach wounded soldiers who previously played an instrument how to adapt the playing skills they already have to their new physical circumstances, such as needing to compensate for a missing arm or leg.   And they teach non-musicians how to play an instrument – and to excel.
Music is a lifeline for these vets. Lance Corporal Josh Cawthorn says "MusiCorps is like the best therapy you could have. It helps my memory, problem solving, coordination – you put two chords together on the guitar and you're kind of like – Whoa – I just made music."  (In the Yo-Yo Ma clip below, notice Cawthorn's Purple Heart embedded in his artificial eye.)
The vets also learn to write and arrange music. An official "session" with a teacher lasts anywhere from 45 min to 7 hours. They study any kind of music, depending on what the veteran is interested in – from C. P. E. Bach to rock, death metal, and even Italian opera. They practice for hours a day. One vet says there have been times when he played his guitar for 20 hours a day.
The MusiCorps Wounded Warrior Band is the performance arm of the program. They have performed for millions of people, and while people initially notice that the members of the band are wounded, they soon become caught up in the high-quality music making.
They have performed with Pink Floyd's Roger Waters at Constitution Hall in Washington, D.C., (along with Sheryl Crow, Billy Corgan of Smashing Pumpkins, and Tom Morello of Rage Against the Machine), with world-renown cellist Yo-Yo Ma at the Kennedy Center, with singer Oleta Adams and the Kansas City Symphony. They have appeared on the Colbert Report and on the special 300th episode in the television series NCIS, and have been covered by all of the major television networks.
Yo-Yo Ma said during his work with MusiCorps, "The essence of music is a deep form of communication. You have these sounds, but they reflect something that someone is crying out to say and to express."   And music becomes the vehicle for these wounded vets to get back in touch with who they really are and to find a way to express what they see as their true selves – beyond the disabilities. It gives them hope for a better life.
I could write about what making music is doing to rewire the brains of these veterans, but today is not the day to be scientific. The real story is that music has tremendous power – for healing, for good, for hope. So today, a day when tens of millions of Americans have lost hope for the future of this country, I want to thank my friend Ed for reminding me "At least we still have music" and its tremendous power to change peoples' lives.
If you are feeling hopeless and overwhelmed today, look at some of the videos linked in this post or on the MusiCorps website and remind yourself of the power of music to create good in the world.   And you may want to consider making a donation to MusiCorps. These vets have had their lives crash down around them while fighting on behalf of a country that has just jumped over a precipice.
MusiCorps receives no funding from Walter Reed or the U.S. government. Their funding comes from modest grants from foundations and from individuals – even school groups holding bake sales. As of two years ago, MusiCorps was working with about 50 veterans a year. The Wounded Warrior Project (no relationship to MusiCorps) puts the number of wounded vets since 9/11 at over 52,000;  the veteran suicide count of 22 per day is well-documented.
Founder Arthur Bloom would like to expand MusiCorps throughout the US and beyond. Maybe today, when millions of us feel so much despair and are terrified for the future, we can remember the power of music to heal and find a way to help these wounded vets, and maybe even ourselves, recover part of who we are through music.
*Actually, as of this writing, Clinton has received well over 200,000 more votes than Trump, but with our archaic Presidential voting system, she has lost the Electoral College vote, and thereby the presidency.