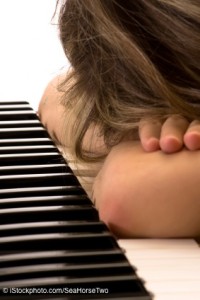 My last semester of college was difficult.  My senior recital was scheduled for late March, I had grad school auditions, a tough course load, was teaching quite a few students in the school's prep division, and of course was practicing a lot of hours for my senior recital.  One evening as I was trying to memorize the Bartok Sonata after a particularly trying day, I was so tired I put my head down on the piano and drifted off.  As is the case in many music schools, the practice room doors all had small windows so other students could look in to see if anyone was using the room.  I have no idea how long I was out, but I was awakened by a couple of voices saying "wonder what she's doing.  Must be a new way of memorizing."  Turns out they may have been more right than they, or I, knew.
As long ago as the 1920s, researchers found that memory retention was better after a night of sleep than after an equivalent amount of time awake.  They concluded that was because the brain wasn't receiving any sensory input during sleep.  But in the past few decades, researchers have discovered that sleep isn't a single physiological state.  They have been studying the role of specific stages of sleep in memory development and retention and discovered that the various stages of sleep may each contribute in a unique way to memory consolidation.
More recently, researchers have been looking at what happens with memories for motor skills after a night of sleep.  There have been several studies that show that memory formation continues after you have finished practicing a motor skill.   Sarah Allen, a researcher at Southern Methodist University, has conducted one of the first studies to look at whether sleep enhances the learning process for musicians.  Her subjects were sixty undergraduate and graduate music majors at the University of Texas at Austin.  Their major instrument was something other than the piano, and although they had some piano skills, no one was advanced.
She divided the sixty students into four groups of 15.  Each student learned one or both of two melodies in an evening practice session during which they were monitored for speed and accuracy.  All subjects went home to sleep and came back in the morning for a retest.  The first group learned a 13-note melody that we'll call melody A.   The second group learned melody A, but then also learned melody B, which was a similar 13-note melody.  The third group learned melody A, then melody B, but reviewed melody A before going home, and the fourth group learned melody A, went home to sleep and came back in the morning to learn melody B and to review melody A before the retest.
The results are fascinating.  The students in the first group, who had learned just the one melody, showed over 11% improvement in speed and accuracy the next morning.   So while they were asleep dreaming about something else, the motor skills to play the melody they had just learned continued to improve.  Pretty amazing!   Surprisingly, the students in the second group, who had learned both melodies A and B, showed no improvement in either one.  Learning two melodies seemed to cancel out the overnight gain for both.  But for Allen, the most surprising, and perhaps most important result of the study concerned the third group.  They had learned both melodies but then reviewed the first melody (A) at the end of the practice session, and they showed the same improvement in melody A after sleep as the first group – over 11%.  The students in the fourth group, who learned A at night, B in the morning and then reviewed A, were similar to the second group in showing no improvement of anything.
Allen cautions against reading too much into this study.  After all, the subjects were learning a single, very short melody line, not a complex piece of music.  But I think it's interesting to think about and to perhaps try some experiments.  Most of us don't practice just one piece of music during the day.  We're always trying to cover multiple works in limited practice time.  Who wouldn't want to be able to improve while sleeping?   So whether you practice in the morning, afternoon, or evening, why not spend some time before you go to bed reviewing a piece, or section of a piece, that you find particularly difficult.  Then go to bed and "sleep on it."